Tradesmen Gold Coast
News -
Kitchen Renovation
Kitchen Renovation
This is a great opportunity to look at the results of a kitchen renovation.
Various trades are involved including Kitchen specialist, Timber Floor specialist, Electrician, Plumber and Painter.
The hardwood floor is 20 years old but is retained and patched to perfection.
This particular renovation requires the Timber Floor specialist to patch and add timber to an existing floor and make it match.
The Kitchen specialist needed to create custom benches install them and template out the benchtops.
The Electician was required to connect everything up.
The Plumber needs to connect sinks etc.
The Painter had to help with the colour choice, prepare all surfaces and work within the scope of the other trades. Using a painter with wall repair experience pays off.
A pest controller was required to do a Termite Inspection prior to the renovation.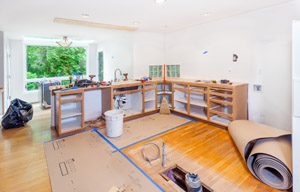 Remodel begins - demolishing existing cabinets and removing a pony wall (half-wall)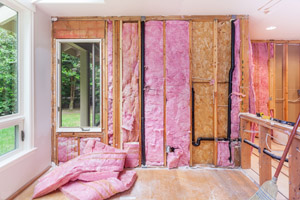 Demolishing the old kitchen - exposing the studs, existing plumbing and electrical work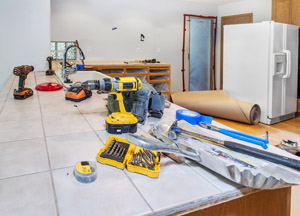 Taking apart and removing old kitchen cabinets and counters Removing old cabinets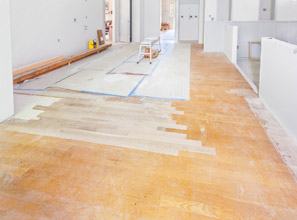 Patching hardwood floor - inserting new wood into floor areas exposed by the remodel

Patched hardwood floor in hallway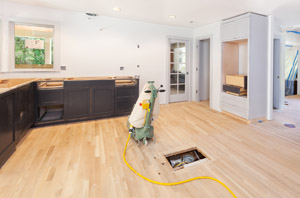 Filler is applied and sanded off to refinish a 20-year-old hardwood kitchen floor

Refinishing the hardwood floor

Custom kitchen cabinets in various stages of installation; base for island in centre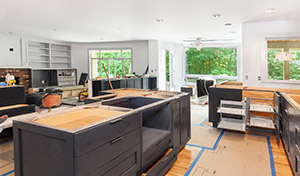 Kitchen cabinet and island installation. Pull out blind corner cabinet, island drawers and counter cabinets installed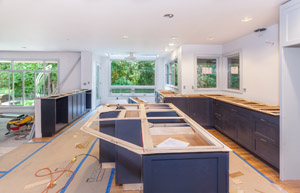 Cutting and marking balsa wood templates for making engineered stone countertops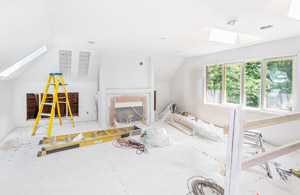 One skylight installed with interior cutouts finished on two more. Fireplace and cabinet cutouts complete

Custom kitchen cabinets arranged and installed. Hardwood floor patched.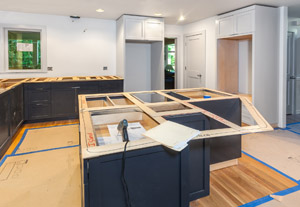 Making balsa wood templates for kitchen countertops - the island and cooktop area

Custom kitchen cabinets installed. Engineered quartz countertop installed.

Templating countertops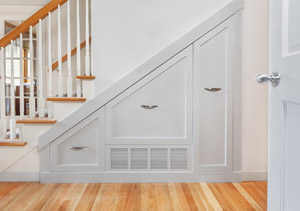 Under stair pullout cabinets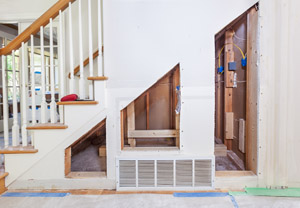 Under stair cupboard framing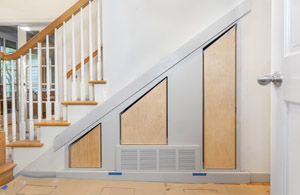 Custom built pullout cabinets on glides in slots under stairs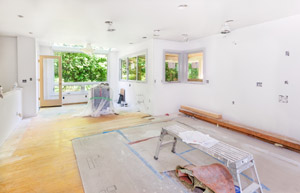 Basic painting complete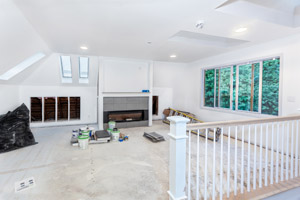 Custom stair rails, balusters and remaining skylights installed

Gray and black tiles form the face of a new fireplace. Cutouts with supports for new bookcases, and finished openings for new skylights

Finishing electrical work in media room for OK to cover inspection

Kitchen looks more functional with a sink, cooktop, refrigerator and partially installed vent hood. Window seat bench bases installed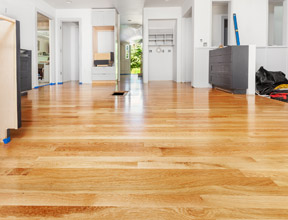 Remodeled kitchen has existing hardwood floor patched and refinished

Open kitchen and family room
Share:
Other Articles
Jul 21, 2021 Testing And Tagging: What You Need To Know
Jun 14, 2021 Termidor Transfer Effect Explained
Mar 24, 2021 SEO for Gold Coast Tradies
Mar 16, 2021 Should You Get An Irrigation System For Your Home?
Feb 1, 2021 Competitive Advantage
Dec 21, 2020 The psychology of pricing services and products
Nov 30, 2020 Tyre Vulcanizer
Oct 1, 2020 Using Grey Water on your Garden
Sep 28, 2020 Queensland Mining Tools and Equipment
Sep 16, 2020 Injury Compensation Lawyers
Jun 10, 2020 5 tips on how to evaluate a painting quote
Jun 10, 2020 Energy Efficiency of Light Bulbs
Jun 2, 2020 Tyre Pressure
Apr 21, 2020 Washing Machine Repairs
Apr 14, 2020 Pre Purchase Pest Inspection. Why do I need one?
Apr 8, 2020 Personal injury Claims & Compensation
Feb 13, 2020 Managing your business overheads
Nov 27, 2019 Car Detailing - more than a car wash
Jul 22, 2019 Business Security Brisbane
Feb 26, 2019 Pool Cleaning
Feb 1, 2019 Renewable Energy Scorecard
Dec 17, 2018 The Dukes of Hazard
Nov 26, 2018 Printing Stickers and Other Pressing Matters
Oct 17, 2018 What do we mean by home automation?
Jun 11, 2018 Landscape Gardens - Theology, Mythology & Reality
May 15, 2018 What Are Power Factor Charges?
May 2, 2018 How well do you know your mechanic?
Nov 23, 2017 ELECTRICITY AND WATER – A Dangerous Combination
Oct 12, 2017 Bookkeeping Using Xero
Oct 14, 2016 Keep your coils clean
Apr 19, 2016 Custom Timber Furniture
Aug 10, 2015 What you need to know about CCTV Cameras
Jun 16, 2015 Faulty Appliances
Jun 16, 2015 Types of utes for hire
Jun 16, 2015 Does your bathroom smell?
Jun 12, 2015 Energy Efficient Lighting
Jun 12, 2015 Bond Cleaning with multiple cleaners
Jun 2, 2015 Tips on getting the best from your washing machine
May 8, 2015 Visualise your kitchen renovation
Apr 9, 2015 Level Line Plumbing
Mar 24, 2015 Kitchen Renovations - where to start
Mar 17, 2015 Is your washing machine actually broken?
Mar 5, 2015 6 reasons to Hire a vehicle
Feb 23, 2015 Recommendations to avoid electric shock
Feb 23, 2015 Termites not covered under insurance policies
Feb 20, 2015 Independent Electrical Contractor Palm Beach
Dec 26, 2014 The benefits of a Metal Roof
Sep 26, 2014 Why Electrical Safety Switches are important
Aug 8, 2014 Life is too short for an old kitchen
Jul 21, 2014 Award Winning Tradesmen
Apr 4, 2014 Why it is best to use quality paints
Mar 12, 2014 Do Whirlybirds work?
Sep 23, 2013 Ducted Air Conditioning Gold Coast
Sep 19, 2013 Two Inspectors are better than one
Sep 12, 2013 Electrician Gold Coast - Brisbane
Aug 14, 2013 Video Marketing for Tradesmen

Weiss
Electrical
Electricians home automation air conditioning data security Brisbane.
Electrical Brisbane