Kitchen Renovation

This is a great opportunity to look at the results of a kitchen renovation.
Various trades are involved including Kitchen specialist, Timber Floor specialist, Electrician, Plumber and Painter.
The hardwood floor is 20 years old but is retained and patched to perfection.
This particular renovation requires the Timber Floor specialist to patch and add timber to an existing floor and make it match.
The Kitchen specialist needed to create custom benches install them and template out the benchtops.
The Electician was required to connect everything up.
The Plumber needs to connect sinks etc.
The Painter had to help with the colour choice, prepare all surfaces and work within the scope of the other trades.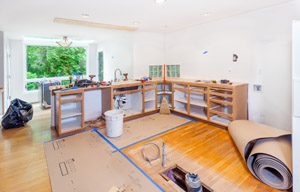 Remodel begins - demolishing existing cabinets and removing a pony wall (half-wall)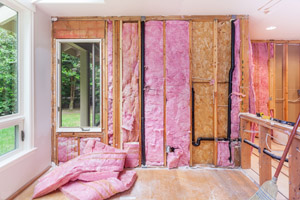 Demolishing the old kitchen - exposing the studs, existing plumbing and electrical work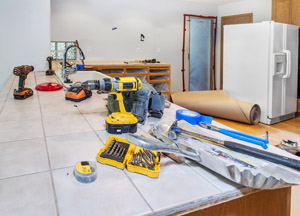 Taking apart and removing old kitchen cabinets and counters Removing old cabinets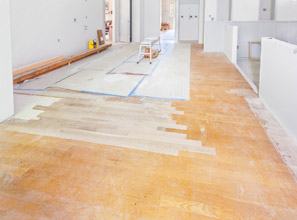 Patching hardwood floor - inserting new wood into floor areas exposed by the remodel

Patched hardwood floor in hallway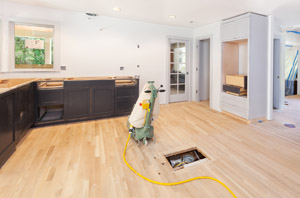 Filler is applied and sanded off to refinish a 20-year-old hardwood kitchen floor

Refinishing the hardwood floor

Custom kitchen cabinets in various stages of installation; base for island in centre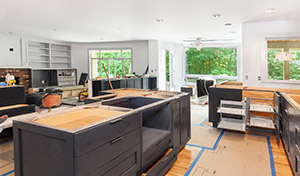 Kitchen cabinet and island installation. Pull out blind corner cabinet, island drawers and counter cabinets installed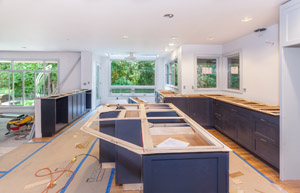 Cutting and marking balsa wood templates for making engineered stone countertops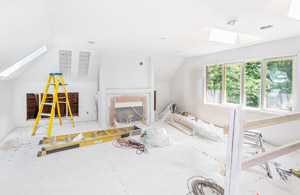 One skylight installed with interior cutouts finished on two more. Fireplace and cabinet cutouts complete

Custom kitchen cabinets arranged and installed. Hardwood floor patched.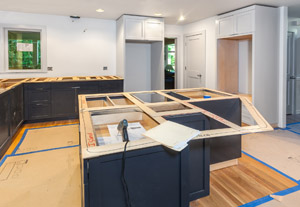 Making balsa wood templates for kitchen countertops - the island and cooktop area

Custom kitchen cabinets installed. Engineered quartz countertop installed.

Templating countertops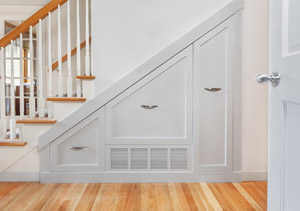 Under stair pullout cabinets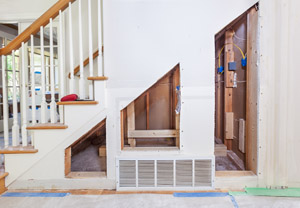 Under stair cupboard framing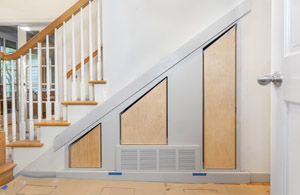 Custom built pullout cabinets on glides in slots under stairs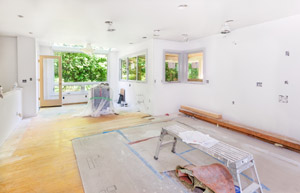 Basic painting complete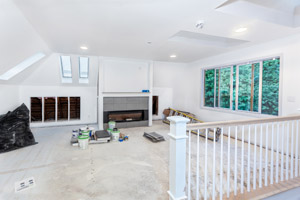 Custom stair rails, balusters and remaining skylights installed

Gray and black tiles form the face of a new fireplace. Cutouts with supports for new bookcases, and finished openings for new skylights

Finishing electrical work in media room for OK to cover inspection

Kitchen looks more functional with a sink, cooktop, refrigerator and partially installed vent hood. Window seat bench bases installed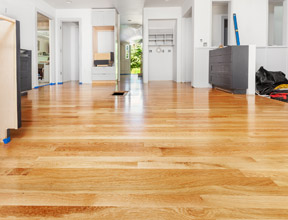 Remodeled kitchen has existing hardwood floor patched and refinished

Open kitchen and family room