Tradesmen Gold Coast
News -
ELECTRICITY AND WATER – A Dangerous Combination
ELECTRICITY AND WATER – A Dangerous Combination
ELECTRICITY AND WATER – A Dangerous Combination
ELECTRICITY AND WATER – A Dangerous Combination
In its purest form, water is an electrical insulator and it shouldn't be able to conduct electricity or allow current to flow through it.
The danger lies with the components dissolved in water, specifically the ions in it. Electricity flows through water when it contains ions of dissolved salts and metals.
An ion is an atom or group of atoms where the number of electrons is not equal to the number of protons.
Pure or distilled water does not contain ions, and so it won't conduct electricity.
The types of water that we come into contact with and use daily include tap water, bottled drinking water or rain water. They all contain ions from various sources.
"The $1bn Solar Panel Installation industry is currently growing at 4.9% pa. The evolution of PV and battery technology along with the general acceptance of roof top solar and rising energy prices underpins continued growth and contributes to the arrival of what is now a mature industry."

Jeff Thatcher JT Electrical Brisbane Southside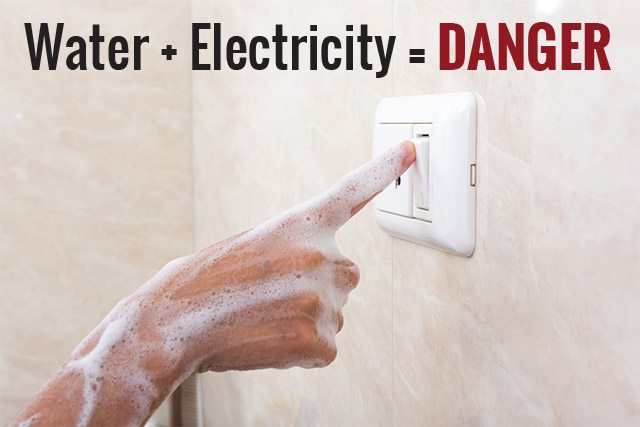 It is important to keep water away from electrical appliances and to keep wet hands and wet objects away from electrical switches, cables and power points.
Electricity passes easily through a body because the fluid in our body contains salts and minerals which allow the electrical charge to be conducted through our body.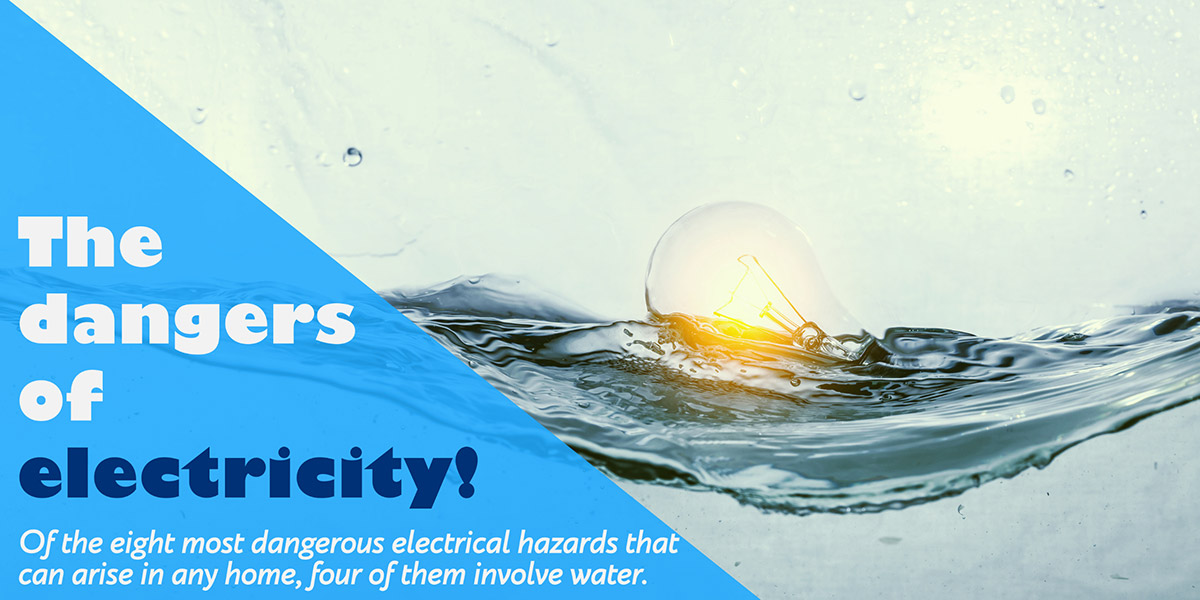 The Dangers of Electricity
The dangers of electricity involve a variety of hazards, including - Electric Shock, Psychological Damage, Physical Burns, Neurological Damage and Ventricular fibrillation resulting in death. Any form of energy, when not properly controlled or harnessed, can result in serious danger to those who use it.
Of the eight most dangerous electrical hazards that can arise in any home, four of them involve water:
1 Poor Wiring and Defective Electric Wires.
2 Power Outlets Close to Water.
3 Wet Hands.
4 Pouring Water on Electrical Fires.
5 Inquisitive Young Children.
6 Extension Cords.
7 Light bulbs.
8 Water leaking into light fixtures and onto electrical wiring.*
*In some cases, a small leak onto electrical wiring may cause a harmless short, but it can also result in sparks that provoke a potentially deadly blaze. This is especially critical in moisture-prone areas such as the kitchen, bathroom and the outdoors, and in humid sub-tropical and tropical climates in Queensland where rain also often falls in heavy deluges.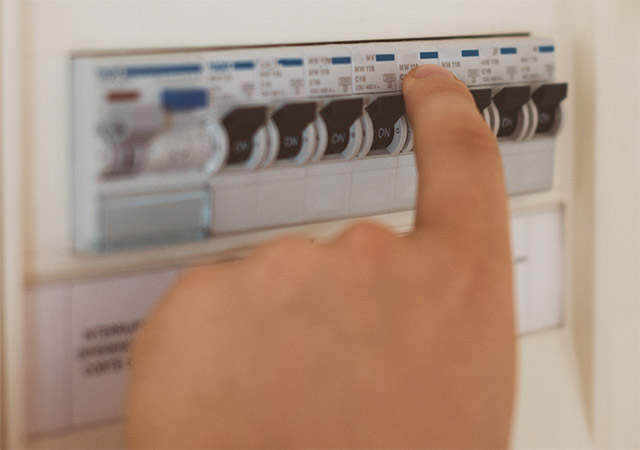 Safety Tips
Keep hands dry when handling electrical wires and plugs.
Unplug electrical appliances when not in use. This is especially critical in moisture-prone areas e.g. a hair dryer in the bathroom or an induction cooker beside the kitchen sink.
Keep electrical devices and extension cords away from water puddles or running water sources.
Hire qualified electrical contractors to install electrical connections in swimming pools.
Use battery-operated appliances instead of electricity-driven devices for areas near water sources.
If an electrical appliance falls into water - immediately switch off the power from the switchboard and unplug the appliance from the power socket before trying to retrieve the appliance. Do not touch the appliance.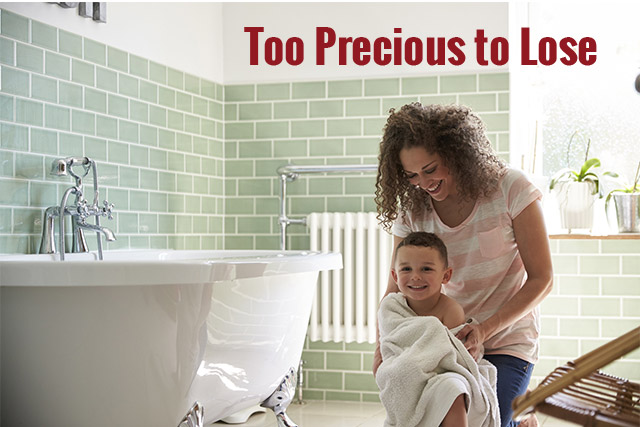 Did you know you need an electrician to fit a hard-wired smoke alarm.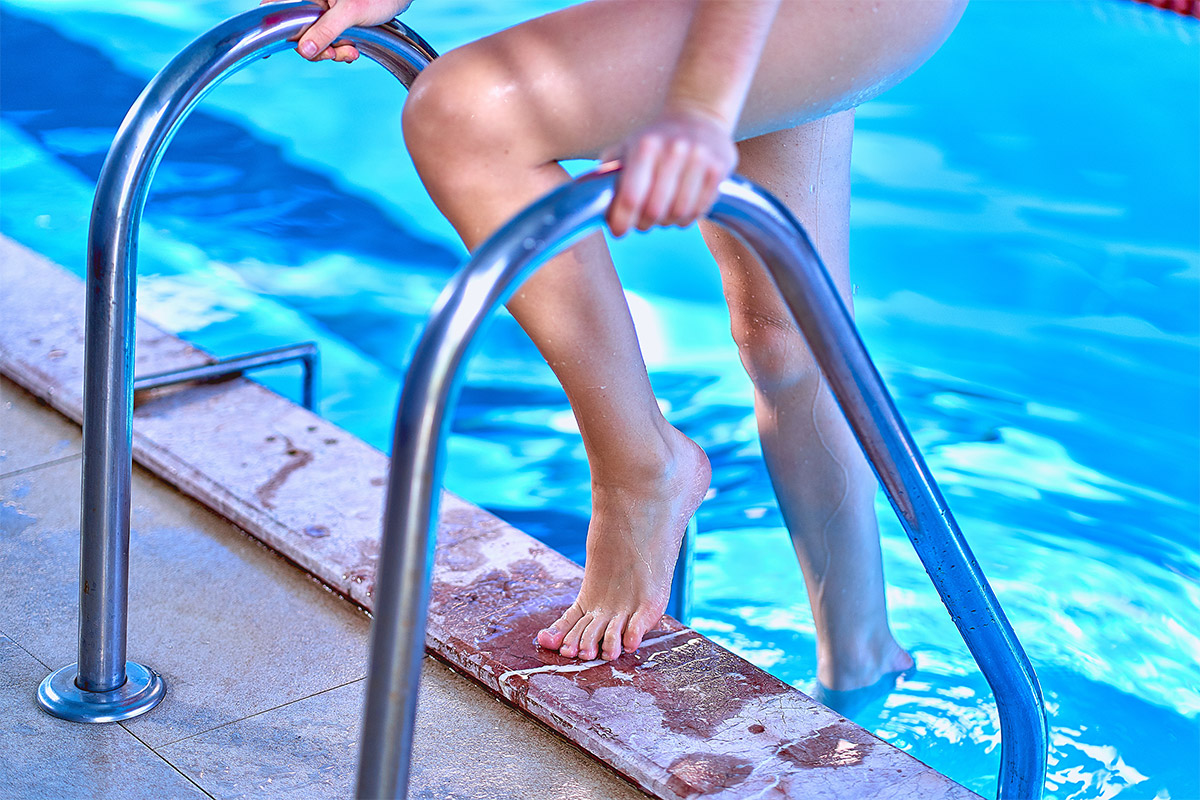 Wet areas and swimming pools
Bare feet and wet skin can make you more susceptible to electric shock.
In a swimming pool even a mild shock could lead to tragedy as the shock may cause you to lose muscle control.
It is recommended to leave pool maintenance to professionals.
Using electrical appliances near a pool that are powered through an electric lead is not a good idea. Battery powered devices are preferred.
Some electrical guidelines around your pool and wet areas-:
Never use any electrical appliance near water or touch anything electrical with wet hands
If an electrical appliance that is not designed for use in water gets wet, or gets water inside it, have it checked by an electrician or manufacturer's authorised repairer.
Low cost equipment may not be repairable and should be disposed of safely so it cannot be reused
Share:
Other Articles
Jul 21, 2021 Testing And Tagging: What You Need To Know
Jun 14, 2021 Termidor Transfer Effect Explained
Mar 24, 2021 SEO for Gold Coast Tradies
Mar 16, 2021 Should You Get An Irrigation System For Your Home?
Feb 1, 2021 Competitive Advantage
Dec 21, 2020 The psychology of pricing services and products
Nov 30, 2020 Tyre Vulcanizer
Oct 1, 2020 Using Grey Water on your Garden
Sep 28, 2020 Queensland Mining Tools and Equipment
Sep 16, 2020 Injury Compensation Lawyers
Jun 10, 2020 5 tips on how to evaluate a painting quote
Jun 10, 2020 Energy Efficiency of Light Bulbs
Jun 2, 2020 Tyre Pressure
Apr 21, 2020 Washing Machine Repairs
Apr 14, 2020 Pre Purchase Pest Inspection. Why do I need one?
Apr 8, 2020 Personal injury Claims & Compensation
Feb 13, 2020 Managing your business overheads
Nov 27, 2019 Car Detailing - more than a car wash
Jul 22, 2019 Business Security Brisbane
Feb 26, 2019 Pool Cleaning
Feb 1, 2019 Renewable Energy Scorecard
Dec 17, 2018 The Dukes of Hazard
Nov 26, 2018 Printing Stickers and Other Pressing Matters
Oct 17, 2018 What do we mean by home automation?
Jun 11, 2018 Landscape Gardens - Theology, Mythology & Reality
May 15, 2018 What Are Power Factor Charges?
May 2, 2018 How well do you know your mechanic?
Oct 12, 2017 Bookkeeping Using Xero
Jun 6, 2017 Kitchen Renovation
Oct 14, 2016 Keep your coils clean
Apr 19, 2016 Custom Timber Furniture
Aug 10, 2015 What you need to know about CCTV Cameras
Jun 16, 2015 Faulty Appliances
Jun 16, 2015 Types of utes for hire
Jun 16, 2015 Does your bathroom smell?
Jun 12, 2015 Energy Efficient Lighting
Jun 12, 2015 Bond Cleaning with multiple cleaners
Jun 2, 2015 Tips on getting the best from your washing machine
May 8, 2015 Visualise your kitchen renovation
Apr 9, 2015 Level Line Plumbing
Mar 24, 2015 Kitchen Renovations - where to start
Mar 17, 2015 Is your washing machine actually broken?
Mar 5, 2015 6 reasons to Hire a vehicle
Feb 23, 2015 Recommendations to avoid electric shock
Feb 23, 2015 Termites not covered under insurance policies
Feb 20, 2015 Independent Electrical Contractor Palm Beach
Dec 26, 2014 The benefits of a Metal Roof
Sep 26, 2014 Why Electrical Safety Switches are important
Aug 8, 2014 Life is too short for an old kitchen
Jul 21, 2014 Award Winning Tradesmen
Apr 4, 2014 Why it is best to use quality paints
Mar 12, 2014 Do Whirlybirds work?
Sep 23, 2013 Ducted Air Conditioning Gold Coast
Sep 19, 2013 Two Inspectors are better than one
Sep 12, 2013 Electrician Gold Coast - Brisbane
Aug 14, 2013 Video Marketing for Tradesmen

Weiss
Electrical
Electricians home automation air conditioning data security Brisbane.
Electrical Brisbane