Tradesmen Gold Coast
News -
Printing Stickers and Other Pressing Matters
Printing Stickers and Other Pressing Matters
Printing Stickers and Other Pressing Matters
Printing Stickers and Other Pressing Matters
Stickers, Decals and Labels.
Today the terms "stickers, decals and labels" are interchangeable but their origins and applications are slightly different.
Stickers are made from paper or vinyl material, adhesive and ink.
Decals (short for 'decalcomania') are usually intended for glass surfaces such as car windows. They are made from clear, durable vinyl material and are easy to apply and remove without causing damage to glass. Decals are also known as 'transfers'.
Labels also use the same 'sticky' principles as the sticker as do stamps, envelopes, posters, banners, corflutes and foamcore signs.
Stickers and labels can be adhered to objects such as bottles, tins, foods (have you noticed those little stickers on apples and bananas?), carpets, clothing, car windows, car bumpers, advertising and political signs, school books, toys and for scrap-booking.
Stickers can be used indoors or outdoors and this will determine whether a sticker should be made of paper or vinyl, laminated or not laminated. Other considerations include whether the sticker will be used in cold and damp atmospheres such as refrigerators or outdoors in hot, cold or humid atmospheres.
The major materials used for modern stickers are plastic (often PVC), pressure sensitive adhesives and non-toxic inks.
Most stickers are non-recyclable because the materials used do not breakdown appropriately. However, the common stationery sticker known as a 'post-it' is considered suitable for recycling because it is designed to breakdown during the recycling process.
A Sticky History
Some historians claim that "stickers" were used in Ancient Egyptian markets as a method of advertising the price of goods for all to see.
Decalcomania (from the French décalcomanie) is a decorative technique where engravings and prints are transferred to pottery, glass or other materials. The decal process emerged in England about 1750 and was exported to the United States as early as 1865. This invention has been attributed to Simon François Ravenet, an engraver from France who later moved to England.
However, the modern sticker is attributed to Sir Rowland Hill in 1839 when he invented and created an adhesive paper that only required moisture to become 'sticky' and soon became the first postage stamp. Born in England, Hill was an English teacher, inventor and social reformer.
In 1935, R. Stanton Avery invented the first adhesive label in the USA using a pressure sensitive adhesive and subsequently founded the now famous "Avery Labels".
It's fair to say that the first car bumper sticker did not exist before the invention of the motor-car in the 18th-19th centuries and probably not before 1913 when the Ford Motor Company used an assembly line to mass produce the Ford Model T.
The use of bumper stickers as a marketing method took off just before World War 2 in Tennessee when "See Rock City" stickers were placed on tourists' cars (without their permission).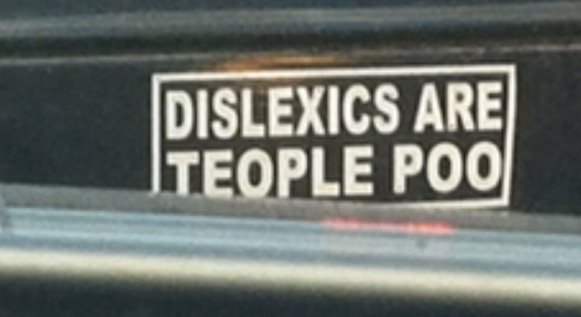 During the 1940s, bumper stickers with political messages on foreign policy, war and European migration were prevalent in the USA.
In the 1950s, when many local grocery stores, milk bars and delicatessens were replaced by self-serve corporate 'super markets', stickers printed with large name brands and bold and colourful inks were produced. These stickers were attached to products so that they stood out on the shelves as shoppers strolled along the aisles.
All over the Western World during the 1960s, the popularity of bumper stickers took off in tandem with 'pop culture' and civil rights campaigns. 'Make Love, Not War' is a stand out example of anti-war social commentary during the 1960s 'counter culture' movement and often printed in tandem with the anti-bomb logo.
Image: Redbubble.com
The popularity of stickers has continued to grow from the 1960s through to current times.
Today's stickers, decals and labels are mostly produced with digital technology for visual clarity with non-toxic inks, adhesives and materials.
Printed stickers are currently used for decorations; product and service branding; information and advertising; tourism promotions; humorous messages; sports and celebrity promotions; labeling of prescription medicines; and to promote contemporary environmental, social and political causes and campaigns.

Gold Coast Printers
Gold Coast Printers, based in South East Queensland, use an ultra-high definition print mode to produce tiny labels for 'little bottles' and stickers of any size up to giant printed wall decals. Gold Coast Printers print labels that can be stuck onto almost anything one can imagine.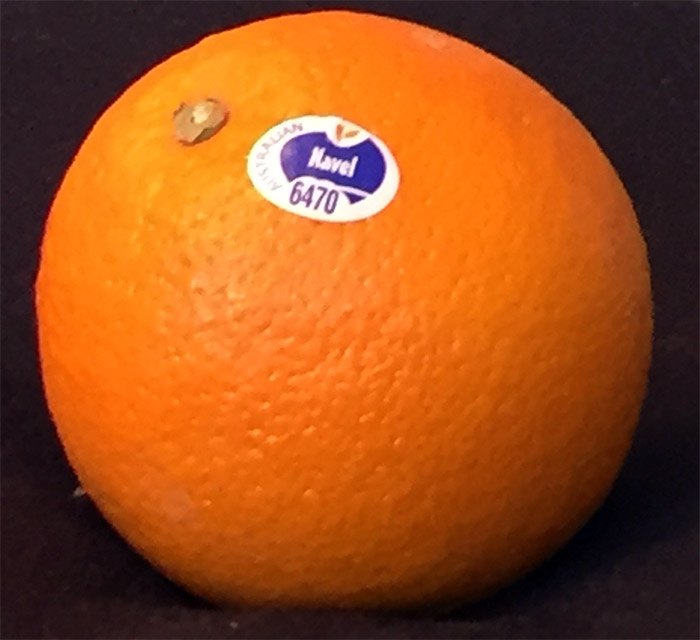 Australians do take our oranges seriously as per the postage stamp below-: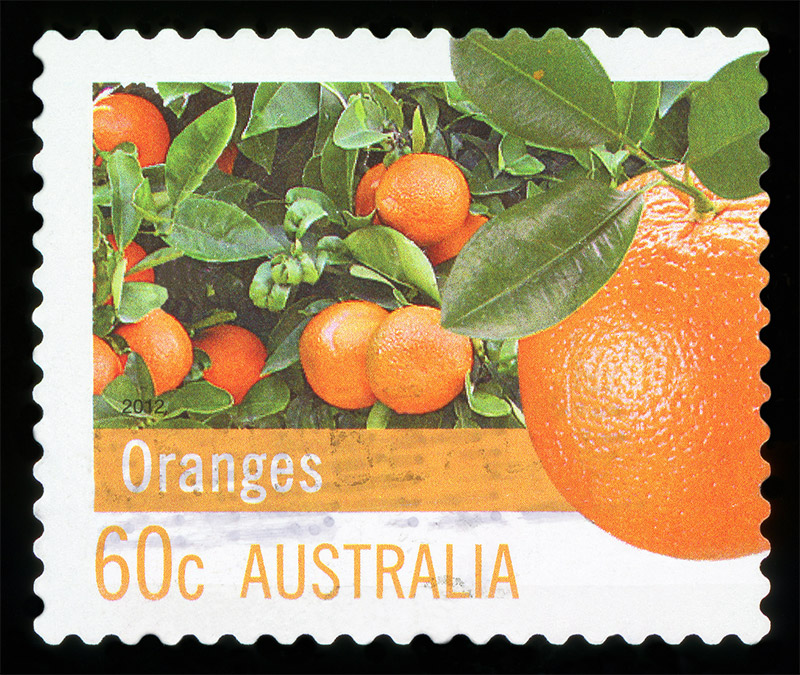 Gold Coast Printers use eco-solvent non-fading inks; however, the climate of South East Queensland often requires stickers and signs to be laminated to lengthen their life and protect them from hot-humid and cool-moist conditions.
If stickers, labels, signs and posters are to be used inside and for the short term (under a year) and it is not anticipated that they will have to be cleaned, there is no need to laminate them.
If stickers, labels, signs and posters are to be used outside or the desire is for their condition to be retained for many years, it's a good idea to laminate them. This protects the ink and allows washing of the sign or sticker. And if the laminated sign is scuffed, it will be the laminate surface that scratches rather than the ink.
Laminated 5mm coreflute is most suitable for outdoor uses such as political campaigns or advertising. For indoor use, foamcore gives an awesome smooth finish and does not require the extra costs of laminating.
Image: Political Satire the Gold Coast way
To cater for car window and bumper stickers, decals and outdoor labels, posters and signs, Gold Coast Printers print on 5 year and 7 year vinyl as a standard and apply a more aggressive adhesive. This does make them a little more expensive than the one year vinyl products; however, quotes can be given for the different options.
Gold Coast Printers also have air release vinyl which is magic stuff. It has tiny grooves built into the vinyl, so that if you stick it down and get bubbles, you can literally push the bubbles out of the vinyl. This vinyl will save heaps of frustration for those who are self installing stickers and labels.
More handy tips, information, products and quotes can be found at:
https://www.goldcoastprinters.net.au/


Stuck on Stickers
While new technologies, digital processes, plastics and improvements in ink-quality have been introduced, the practical applications for pressure adhesive stickers, decals and labels remain true to their humble beginnings in the 1800s. Stickers are as popular today as they were during the 'pop culture' times of the 1960s when they first proliferated.
Other Articles
Jul 21, 2021 Testing And Tagging: What You Need To Know
Jun 14, 2021 Termidor Transfer Effect Explained
Mar 24, 2021 SEO for Gold Coast Tradies
Mar 16, 2021 Should You Get An Irrigation System For Your Home?
Feb 1, 2021 Competitive Advantage
Dec 21, 2020 The psychology of pricing services and products
Nov 30, 2020 Tyre Vulcanizer
Oct 1, 2020 Using Grey Water on your Garden
Sep 28, 2020 Queensland Mining Tools and Equipment
Sep 16, 2020 Injury Compensation Lawyers
Jun 10, 2020 5 tips on how to evaluate a painting quote
Jun 10, 2020 Energy Efficiency of Light Bulbs
Jun 2, 2020 Tyre Pressure
Apr 21, 2020 Washing Machine Repairs
Apr 14, 2020 Pre Purchase Pest Inspection. Why do I need one?
Apr 8, 2020 Personal injury Claims & Compensation
Feb 13, 2020 Managing your business overheads
Nov 27, 2019 Car Detailing - more than a car wash
Jul 22, 2019 Business Security Brisbane
Feb 26, 2019 Pool Cleaning
Feb 1, 2019 Renewable Energy Scorecard
Dec 17, 2018 The Dukes of Hazard
Oct 17, 2018 What do we mean by home automation?
Jun 11, 2018 Landscape Gardens - Theology, Mythology & Reality
May 15, 2018 What Are Power Factor Charges?
May 2, 2018 How well do you know your mechanic?
Nov 23, 2017 ELECTRICITY AND WATER – A Dangerous Combination
Oct 12, 2017 Bookkeeping Using Xero
Jun 6, 2017 Kitchen Renovation
Oct 14, 2016 Keep your coils clean
Apr 19, 2016 Custom Timber Furniture
Aug 10, 2015 What you need to know about CCTV Cameras
Jun 16, 2015 Faulty Appliances
Jun 16, 2015 Types of utes for hire
Jun 16, 2015 Does your bathroom smell?
Jun 12, 2015 Energy Efficient Lighting
Jun 12, 2015 Bond Cleaning with multiple cleaners
Jun 2, 2015 Tips on getting the best from your washing machine
May 8, 2015 Visualise your kitchen renovation
Apr 9, 2015 Level Line Plumbing
Mar 24, 2015 Kitchen Renovations - where to start
Mar 17, 2015 Is your washing machine actually broken?
Mar 5, 2015 6 reasons to Hire a vehicle
Feb 23, 2015 Recommendations to avoid electric shock
Feb 23, 2015 Termites not covered under insurance policies
Feb 20, 2015 Independent Electrical Contractor Palm Beach
Dec 26, 2014 The benefits of a Metal Roof
Sep 26, 2014 Why Electrical Safety Switches are important
Aug 8, 2014 Life is too short for an old kitchen
Jul 21, 2014 Award Winning Tradesmen
Apr 4, 2014 Why it is best to use quality paints
Mar 12, 2014 Do Whirlybirds work?
Sep 23, 2013 Ducted Air Conditioning Gold Coast
Sep 19, 2013 Two Inspectors are better than one
Sep 12, 2013 Electrician Gold Coast - Brisbane
Aug 14, 2013 Video Marketing for Tradesmen

Weiss
Electrical
Electricians home automation air conditioning data security Brisbane.
Electrical Brisbane