Tradesmen Gold Coast
News -
SEO for Gold Coast Tradies
SEO for Gold Coast Tradies
SEO for Gold Coast Tradies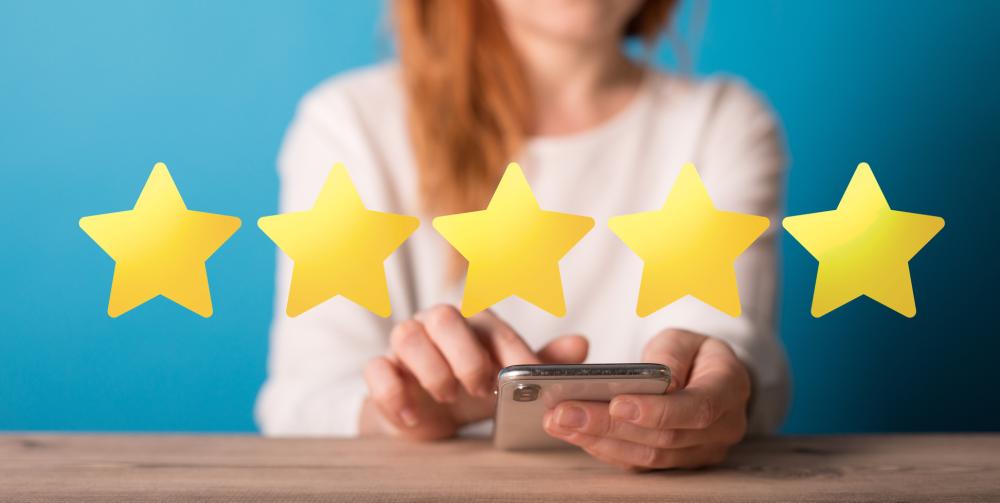 SEO for Gold Coast Tradies
The trade-off for a Gold Coast tradesman considering SEO (Search Engine Optimisation) is whether to do it yourself or hire an SEO.
There are other considerations. It may be useful to get your website analysed properly to ensure it is actually fit for purpose. It takes much more effort to promote a poor site than to have a purpose built site targeting keywords.
If engaging a Gold Coast SEO make sure they have the necessary experience to give you value-:
do they have successful tradesmen already?
do they only take on one of your trade?
do they have reasonable fees?
is the SEO they do genuine, authentic or risky?
are they transparent?
do they have the skillset required?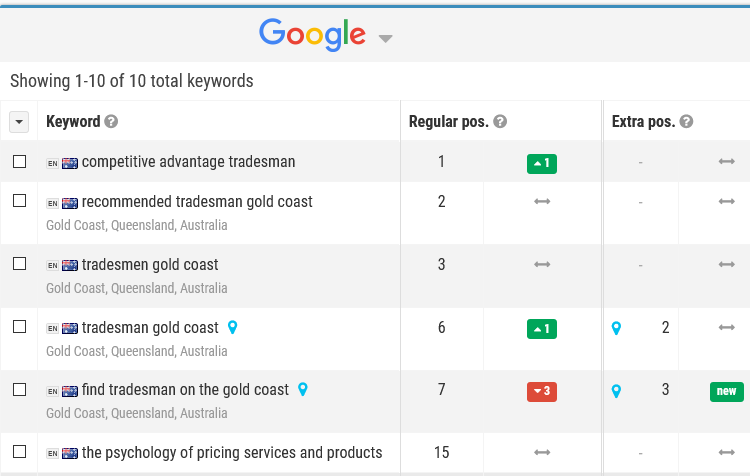 Success with Gold Coast trades already
This is easy to check, ask for examples of sites they work with and look at the results. SEOs have access to search results across various locations on a daily basis. So providing proof of success is simple as sending an image like the results above for this site. If you look at the "tradesman Gold Coast" it says it is in position 6 in the organic listings for a search made on the Gold Coast. It is also in position 2 on the Google My Business map section.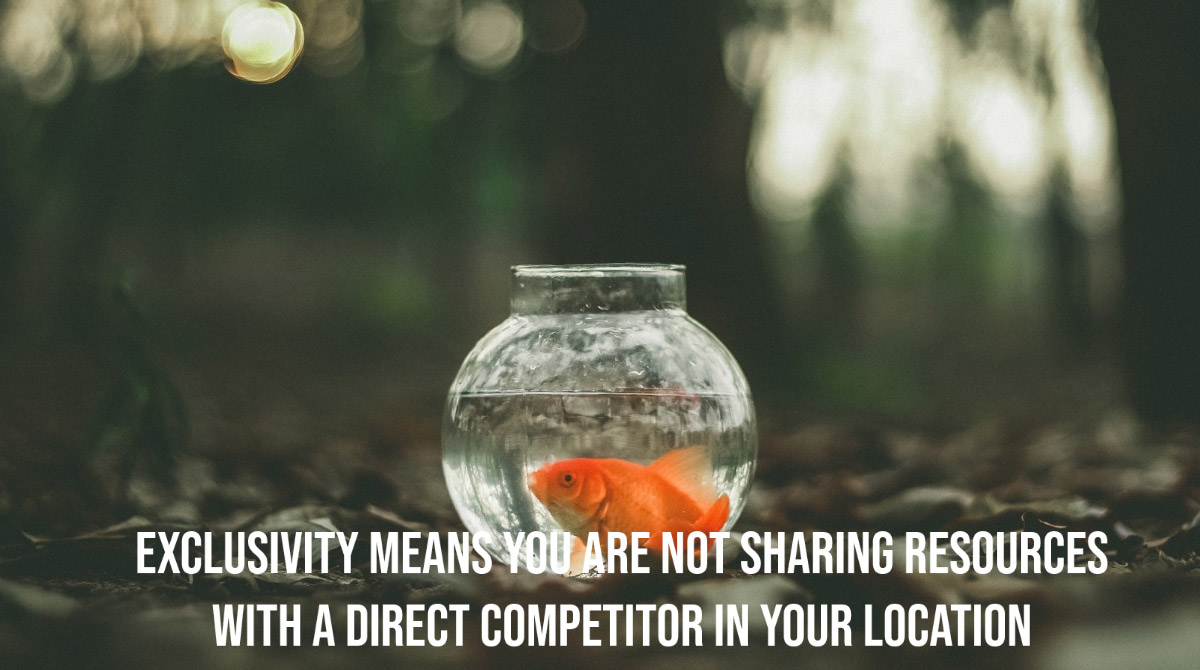 Competitors
Will the SEO take on your direct competitors as clients or will they put 100% of their efforts into your site for that category?
Keyword Research
Keyword research for tradies
1 Obvious location based keywords eg Painter Gold Coast
2 Longtail keywords (longer keywords) will attract less volume but more specific seaches eg how to dispose of paint in Southport
3 Solve a problem eg How to use a roller to paint a wall
4 Diversify into related services
Risky SEO
It is no secret that some SEOs take shortcuts and use techniques that can put your site at risk. Specifically paying for links is not within the Google Webmaster Guidelines. Many sites do this at the risk of being reported for doing so. A simple analysis of the links pointing to your website can reveal whether "Black-Hat" SEO techniques have been employed.
Transparent SEO
The SEO is going to ensure Google Analytics, Google Search Console and Google My Business are running properly. Both the SEO and the business owner can view the statistics on these free platforms. There is more information there than a small business operator needs. The real indicator of success is whether you get relevant calls or contacts. You the business owner are the best judge of that.
An SEO may target search terms slightly removed from your core business. So getting an extra 30 clicks per month means nothing unless it translates into meaningful contacts. A good transparent relationship with your SEO means you can pick up the phone and say "I am not getting the right people contacting me". The SEO will adjust accordingly.
SEO skillset
Look for an SEO who is an accomplished web developer, has skills in social media, programming skills, image management skills, knowledge of servers, plenty of SEO writing experience and ongoing SEO research. An SEO missing those core skills has less to work with. There is no need to have multiple people working on your website. It costs more to have multiple people involved because you are paying for the communication between those people and those costs rise exponentially as the numbers of people increase.
As an example you build a custom eCommerce experience and want to use Google Analytics version 4 to track specific items or transactions or downloads. If the eCommerce creator is your SEO there is reduced need to converse between say a web devloper, a marketing group and your SEO. Just imagine if there are different people at different levels within those 3 groups. A simple upgrade to your Google Analytics tracking information may involve numerous emails. You pay for that time. Keep things as simple as possible.
How long should it take to get results from SEO
How long is a piece of string? A good SEO will target the "low hanging fruit" immediately. Results could be virtually instant, mostly they are not instant especially when there is established competition.
SEO Fees
Whilst you expect to pay for quality, it is also a sign of the quality of the SEO if they can gain success on reasonable fees.
Why?
A reasonable fee keeps the tradie at a competitive advantage. It is in the interest of the SEO company to add value to a tradesman. Keeping fees reasonable adds to the efficiency of the tradesman and is a win win.
Be wary of those who insist you spend $1000s when you may do just fine on a few hundred per month.
It is possible to add plenty of value on a $200 per month budget, especially for a small business.

If you are competing against people spending large amounts on SEO, trying to dominate the major keywords, you can opt for a strategy that is less expensive but works on what are called long-tail keywords.
Although there are estimates of keyword volumes (the number of searches in Google for a specific keyword per month) a good SEO can create pages that attract searchers who may be searching using different combinations of words.
What does SEO do to your bottom line - your profit
In our article on Calculating your Charge-out rate we analysed different scenarios and came up with the following table of your income depending on your hourly rate once overheads were taken into account. We calculated 1,282.50 billable hours per annum.
What happens when we add a monthly SEO cost of $1500 per month to that hourly rate?
Factor In Overheads $15,000 - SEO fees $18,000
| Hourly Rate | Gross Annual Income | Fixed Overheads | Net Annual Income | Deduct SEO | Adjusted Annual Income |
| --- | --- | --- | --- | --- | --- |
| 30.00 | 38,475 | 15,000 | $ 23,475 | 18,000 | $ 5,475 |
| 40.00 | 51,300 | 15,000 | $ 36,300 | 18,000 | $ 18,300 |
| 50.00 | 64,125 | 15,000 | $ 49,125 | 18,000 | $ 31,125 |
| 60.00 | 76,950 | 15,000 | $ 61,950 | 18,000 | $ 43,950 |
| 70.00 | 89,775 | 15,000 | $ 74,775 | 18,000 | $ 56,775 |
| 80.00 | 102,600 | 15,000 | $ 87,600 | 18,000 | $ 69,600 |
| 90.00 | 115,425 | 15,000 | $ 100,425 | 18,000 | $ 82,425 |
| 100.00 | 128,250 | 15,000 | $ 113,250 | 18,000 | $ 95,250 |
It is not uncommon for SEO's to suggest a $1500 per month SEO fee, even for a small tradie or business. However as the figures above suggest that $1500 SEO fee has a large effect on your profit.
For a small to medium business an SEO fee in the range of $200 - $500 is affordable, an SEO fee over $1000 requires a very profitable business to sustain. It represents a risk.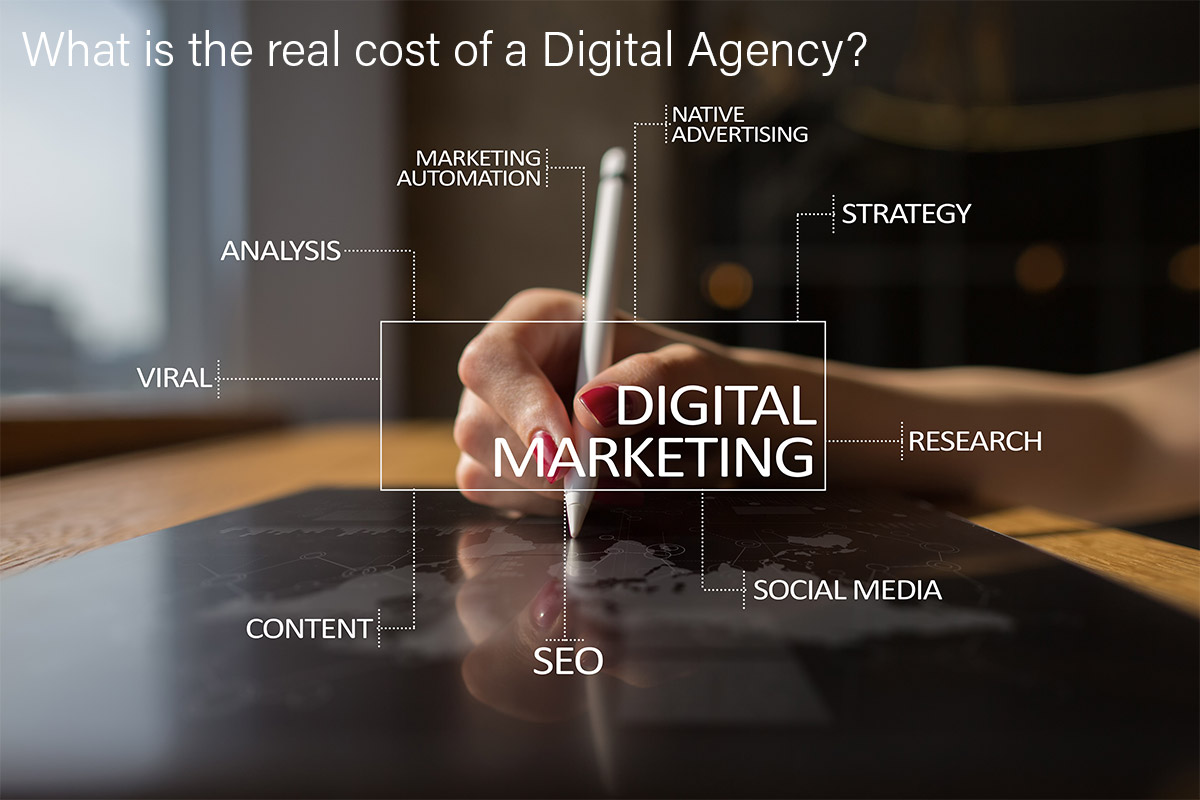 Share:
Other Articles
Oct 11, 2021 Calculating a Charge-Out Rate
Jul 21, 2021 Testing And Tagging: What You Need To Know
Jun 14, 2021 Termidor Transfer Effect Explained
Mar 16, 2021 Should You Get An Irrigation System For Your Home?
Feb 1, 2021 Competitive Advantage
Dec 21, 2020 The psychology of pricing services and products
Nov 30, 2020 Tyre Vulcanizer
Oct 1, 2020 Using Grey Water on your Garden
Sep 28, 2020 Queensland Mining Tools and Equipment
Sep 16, 2020 Injury Compensation Lawyers
Jun 10, 2020 5 tips on how to evaluate a painting quote
Jun 10, 2020 Energy Efficiency of Light Bulbs
Jun 2, 2020 Tyre Pressure
Apr 21, 2020 Washing Machine Repairs
Apr 14, 2020 Pre Purchase Pest Inspection. Why do I need one?
Apr 8, 2020 Personal injury Claims & Compensation
Feb 13, 2020 Managing your business overheads
Nov 27, 2019 Car Detailing - more than a car wash
Jul 22, 2019 Business Security Brisbane
Feb 26, 2019 Pool Cleaning
Feb 1, 2019 Renewable Energy Scorecard
Dec 17, 2018 The Dukes of Hazard
Nov 26, 2018 Printing Stickers and Other Pressing Matters
Oct 17, 2018 What do we mean by home automation?
Jun 11, 2018 Landscape Gardens - Theology, Mythology & Reality
May 15, 2018 What Are Power Factor Charges?
May 2, 2018 How well do you know your mechanic?
Nov 23, 2017 ELECTRICITY AND WATER – A Dangerous Combination
Oct 12, 2017 Bookkeeping Using Xero
Jun 6, 2017 Kitchen Renovation
Oct 14, 2016 Keep your coils clean
Apr 19, 2016 Custom Timber Furniture
Aug 10, 2015 What you need to know about CCTV Cameras
Jun 16, 2015 Types of utes for hire
Jun 16, 2015 Does your bathroom smell?
Jun 16, 2015 Faulty Appliances
Jun 12, 2015 Energy Efficient Lighting
Jun 12, 2015 Bond Cleaning with multiple cleaners
Jun 2, 2015 Tips on getting the best from your washing machine
May 8, 2015 Visualise your kitchen renovation
Apr 9, 2015 Level Line Plumbing
Mar 24, 2015 Kitchen Renovations - where to start
Mar 17, 2015 Is your washing machine actually broken?
Mar 5, 2015 6 reasons to Hire a vehicle
Feb 23, 2015 Recommendations to avoid electric shock
Feb 23, 2015 Termites not covered under insurance policies
Feb 20, 2015 Independent Electrical Contractor Palm Beach
Dec 26, 2014 The benefits of a Metal Roof
Sep 26, 2014 Why Electrical Safety Switches are important
Aug 8, 2014 Life is too short for an old kitchen
Jul 21, 2014 Award Winning Tradesmen
Apr 4, 2014 Why it is best to use quality paints
Mar 12, 2014 Do Whirlybirds work?
Sep 23, 2013 Ducted Air Conditioning Gold Coast
Sep 19, 2013 Two Inspectors are better than one
Sep 12, 2013 Electrician Gold Coast - Brisbane
Aug 14, 2013 Video Marketing for Tradesmen

Weiss
Electrical
Electricians home automation air conditioning data security Brisbane.
Electrical Brisbane