Tradesmen Gold Coast
News -
Visualise your kitchen renovation
Visualise your kitchen renovation
Visualise your kitchen renovation
Visualise your kitchen renovation
How to make your kitchen renovation as simple as can be.
Firstly you need the money to do it - that is pretty obvious and worth waiting until you have that organised so you can do it properly.
Get out of the way
Yes as handy as you may think you are - you may need to simply get out of the way, get out of the house/unit and allow the tradesmen to do their job.
A kitchen renovation may involve the following trades-:
Builder
Carpenter Cabinet maker
Plumber Gas Fitter
Tilers
Flooring experts
Painter
One person needs to be in charge so that you can communicate effectively with that person who will then use their expertise to organise the trades.
So that person is exreemly important. Normally that would be a builder.

A good builder will consult with you and hand you a quote.
Award winning builder Gold Coast Shamus Cameron may be your best ally here.
They will organise all of the trades and ensure the least disruption as possible.
However demolishing a kitchen and rebuilding it is a noisy and dusty affair.
You really do not want to be around when all of that happens - so there is the element of trust you need.
There are few people who can organise every detail of a kitchen in one go so you are going to need to be reasonably flexible.
Dave of goldcoastjoinery.com.au who specialises in kitchen renovations Gold Coast is very good at working with clients as the project evolves.
Getting the right appliances is important and having a flexible approach if necessary. You may need to keep your existing microwave and refrigerator for example, but also need to let go of some older appliances.
A good builder will make allowances for issues as they arise. For example you may choose some tiles that are real stone and require a special saw with water flowing to be able to cut properly - if your quote is organised well you can easily identify what the builder has allowed for tiling and accept you will be paying a few dollars extra for your choices.
So it is not about - but you said it would cost this much. If you are reasonably fair in your dealings and don't try to screw tradesman down on prices when circumstances are different than quoted you will end up with a better result.
This all comes back the the builder you choose to start with. Go by reputation and check some work they have performed that is similar to what you plan.
Stone benchtops
Depending on the products chosen the usual strategy is to build the kitchen at a joinery then install. Once installed the stone top is measured and fitted.
Plumbing Issues
A good plumber will be involved in demolition as well as fitting out the kitchen.
That is at different stages of the kitchen renovation so the scheduling and co-operation required is very important.
Sometimes there are unknowns like what condition of and where pipes were initially placed.
Electrician very important
Electrical Services for example may need to advise on what lights can be used based on the existing power supplies.
Dimable efficient lights may be a good choice if possible. Fitting of kitchen appliances appropriately so that issues do not arise if there is a need for appliance repairs in the futre.
Even the best brands can have issues when it comes to kitchen appliance repairs.
Painter preparation
One of the last trades is the Painter. Gold Coast Painter with over 25 years experience Blair Friend is meticulous when it comes to preparation and choice of colours. In recent times the trend is for whites or off whites to be used and letting the furniture or appliances add the contrast.
Don't forget the neighbours
It may not be easy on your neighbours during construction but if planned well you can at least warn them.
Be aware of future issues that could cause a problem - for example if you are renovating a unit be wary of plumbing issues that can be difficult to fix later.
Simple things like how the builder removes rubbish is important - dropping a skip on lawn for a week may really upset some people.
You have to work hard too
If you are looking for specific appliances do some home work and shop around. A good builder will allow you to choose anything you want.
However well intentioned you may not be aware of issues arising out of your choices.
You may buy the beautiful taps but not realise you also needed a special plate or fastener to install them.
Or the taps cannot be placed in the standard position assumed at the start.
The plumber may then have to make a special trip to purchase these.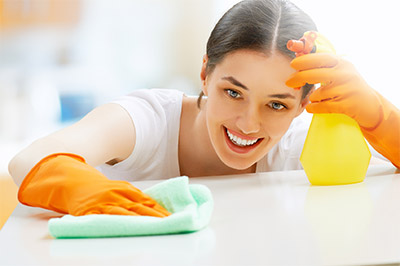 If you are pressed for time you could consider using professional bond cleaners to help clean up properly so you move in to a fresh clean house.
Other Articles
Oct 11, 2021 Calculating a Charge-Out Rate
Jul 21, 2021 Testing And Tagging: What You Need To Know
Jun 14, 2021 Termidor Transfer Effect Explained
Mar 24, 2021 SEO for Gold Coast Tradies
Mar 16, 2021 Should You Get An Irrigation System For Your Home?
Feb 1, 2021 Competitive Advantage
Dec 21, 2020 The psychology of pricing services and products
Nov 30, 2020 Tyre Vulcanizer
Oct 1, 2020 Using Grey Water on your Garden
Sep 28, 2020 Queensland Mining Tools and Equipment
Sep 16, 2020 Injury Compensation Lawyers
Jun 10, 2020 5 tips on how to evaluate a painting quote
Jun 10, 2020 Energy Efficiency of Light Bulbs
Jun 2, 2020 Tyre Pressure
Apr 21, 2020 Washing Machine Repairs
Apr 14, 2020 Pre Purchase Pest Inspection. Why do I need one?
Apr 8, 2020 Personal injury Claims & Compensation
Feb 13, 2020 Managing your business overheads
Nov 27, 2019 Car Detailing - more than a car wash
Jul 22, 2019 Business Security Brisbane
Feb 26, 2019 Pool Cleaning
Feb 1, 2019 Renewable Energy Scorecard
Dec 17, 2018 The Dukes of Hazard
Nov 26, 2018 Printing Stickers and Other Pressing Matters
Oct 17, 2018 What do we mean by home automation?
Jun 11, 2018 Landscape Gardens - Theology, Mythology & Reality
May 15, 2018 What Are Power Factor Charges?
May 2, 2018 How well do you know your mechanic?
Nov 23, 2017 ELECTRICITY AND WATER – A Dangerous Combination
Oct 12, 2017 Bookkeeping Using Xero
Jun 6, 2017 Kitchen Renovation
Oct 14, 2016 Keep your coils clean
Apr 19, 2016 Custom Timber Furniture
Aug 10, 2015 What you need to know about CCTV Cameras
Jun 16, 2015 Does your bathroom smell?
Jun 16, 2015 Types of utes for hire
Jun 16, 2015 Faulty Appliances
Jun 12, 2015 Bond Cleaning with multiple cleaners
Jun 12, 2015 Energy Efficient Lighting
Jun 2, 2015 Tips on getting the best from your washing machine
Apr 9, 2015 Level Line Plumbing
Mar 24, 2015 Kitchen Renovations - where to start
Mar 17, 2015 Is your washing machine actually broken?
Mar 5, 2015 6 reasons to Hire a vehicle
Feb 23, 2015 Recommendations to avoid electric shock
Feb 23, 2015 Termites not covered under insurance policies
Feb 20, 2015 Independent Electrical Contractor Palm Beach
Dec 26, 2014 The benefits of a Metal Roof
Sep 26, 2014 Why Electrical Safety Switches are important
Aug 8, 2014 Life is too short for an old kitchen
Jul 21, 2014 Award Winning Tradesmen
Apr 4, 2014 Why it is best to use quality paints
Mar 12, 2014 Do Whirlybirds work?
Sep 23, 2013 Ducted Air Conditioning Gold Coast
Sep 19, 2013 Two Inspectors are better than one
Sep 12, 2013 Electrician Gold Coast - Brisbane
Aug 14, 2013 Video Marketing for Tradesmen

Weiss
Electrical
Electricians home automation air conditioning data security Brisbane.
Electrical Brisbane